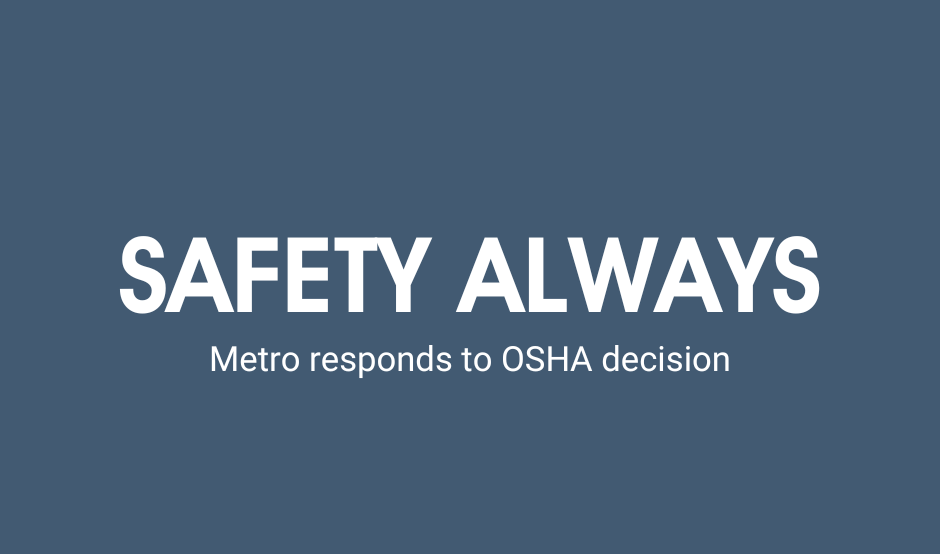 August 12, 2022
There is an article circulating the web based on a press release from the US Department of Labor. Based on a complaint from a former pilot, OSHA claims we forced the pilot to resign.  The FAA conducted a separate investigation and found no substantiated violation by Metro Aviation of any FAA regulation or standard. The FAA investigation included reviewing Metro's policies and procedures along with pilot interviews and found that we are operating safely in compliance with all applicable FAA regulations and standards.
We are seeking judicial review of this administrative decision by the OSHA investigator.
We take all matters involving the safety of our employees and our customers very seriously.  Please see our statement below:
Though we cannot speak at this time about this particular former employee's pending complaint, we respectfully disagree with OSHA's administrative determination and intend to seek a hearing before an administrative law judge who will consider all relevant evidence, including the FAA's determination that a violation of an FAA regulation or standard by Metro Aviation had not been substantiated. 
We can also speak to our commitment to safety since our inception 40 years ago.  Metro Aviation prides itself on being an industry leader, staying focused on operating as safely as we possibly can, as anyone who is familiar with us knows very well.  We will stay focused on what we do best: operating and maintaining aircraft safely with the best employees in the industry, for the best customers in the industry.

Metro partners with CommLink Network  March 9, 2023 Metro Aviation has partnered with CommLink Network to enhance training for its customer communication centers by creating the Metro Program. The Metro Program emphasizes improved training by offering every Metro...
Metro Aviation is constantly growing our capabilities and expanding our reach. Metro holds more than 30 Supplemental type Certificates (STC) and completes about 35 aircraft each year for U.S. customers anf global clients.