Metro partners with Acadian to operate Life Air Rescue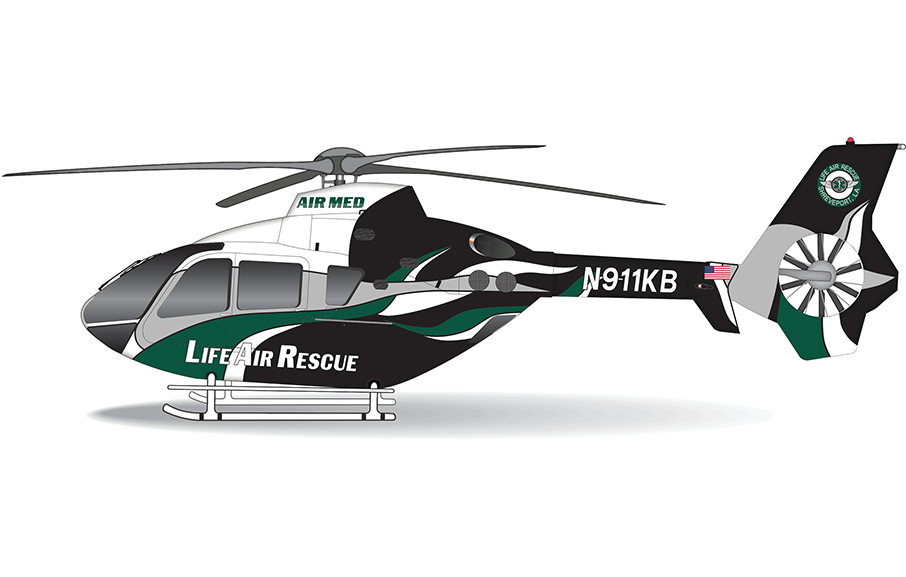 August 5, 2019
Life Air Rescue (LAR), Shreveport's own helicopter emergency medical service, is woven tightly into the history of the Ark-La-Tex.  From its beginnings as Life Eye 12, a partnership between KSLA Channel 12 and Schumpert Medical Center (now Christus Health) to the merger of Schumpert's Life Air 1 and Willis-Knighton's Air Rescue in 1993, Life Air Rescue has been a beacon of hope for the hurting and a lifesaver for the community. 
Today, Life Air Rescue stands ready to transport the Ark-La-Tex's most vulnerable, but with a new look and new capabilities due to a partnership between Metro Aviation and Acadian Air Med.  Both Metro and Acadian are committed to continuous improvement and safety and will transition LAR to an IFR (Instrument Flight Rules) program.  Being an IFR program will enable LAR to safely conduct transports in weather that it may not have otherwise as a VFR (Visual Flight Rules) only program. Though all of Metro's pilots are IFR-qualified, the LAR pilots will undergo additional training, both in Metro's Level D full-motion simulators and in the aircraft to ensure full confidence and compliance with Metro's IFR curriculum.  Once fully trained and current, the pilots will spend considerable time training and conducting flights with Acadian's medical crews. Once all crews are ready, the program will begin conducting IFR flights.
"Life Air Rescue was our entry into the air medical industry and we are highly invested in our hometown program," said Metro Director of Business Integration Todd Stanberry.  "We are excited to introduce new capabilities such as rendering the program IFR and we look forward to working with Acadian to ensure Life Air Rescue is here for many more generations to come."
Life Air Rescue was Shreveport-based Metro Aviation's very first air medical program.  Metro started the program in 1983.  At that time, it was known as "Life Eye 12," and Metro provided pilots and mechanics for the aircraft and maintained all operational control of the program. It was Metro President and CEO Mike Stanberry that dreamt up the idea of Life Eye 12, convincing both Schumpert and KSLA to share the costs and benefits of one aircraft.  In the beginning, Life Eye 12 would fly to an accident scene, allowing a camera operator to capture footage before landing, then reconfigure the aircraft on-scene to accommodate a foldable stretcher for the patient.  The camera operator remained at the scene, but sent his film with the pilot to deliver to the news station upon landing. In the days predating camera phones and social media, Life Eye 12 was the closest thing to eyewitness news and live television.  LAR continued to make history through the years as it became a combination of Schumpert and Willis-Knighton's air medical programs and then became the first program in Louisiana to carry blood on the aircraft.
Although LAR has been operated by Metro Aviation since its inception, a new partnership between Metro and Acadian, another of Metro's operations customers, is ensuring that Life Air Rescue stays in the Ark-La-Tex for years to come.  Lafayette-based Acadian Air Med will now provide the medical crew, dispatching and billing services for Life Air Rescue.   Bringing the medical component of the program back to Louisiana is also good for the state, keeping tax dollars here at home.
Metro Aviation is currently rebranding Life Air Rescue's aircraft to include the Acadian green known throughout the state. The Acadian crew in Shreveport, all of whom are familiar faces to the community, are a team of flight nurses and paramedics, and the community will also benefit from Acadian's specialty transport teams for adult and pediatric patients.  Their extensive treatment protocol includes stroke care, advanced trauma life support, acute coronary syndrome treatment and rapid sequence induction using operating room procedures.  The helicopter will carry a full complement of advanced life support drugs, monitors and external pacemakers, ventilators and medication pumps and blood products.  
Shreveport will be Acadian's 9th base in Louisiana and the 10th base total, which includes their newest location in Monroe.  Acadian also operates a base in Silsbee, Texas.  Acadian Ambulance Service was founded in 1971.  Ten years later Air Med was launched with just one helicopter. Today, Acadian operates more than 10 Airbus EC135 twin-engine helicopters, as well as five fixed-wing aircraft for extended transports.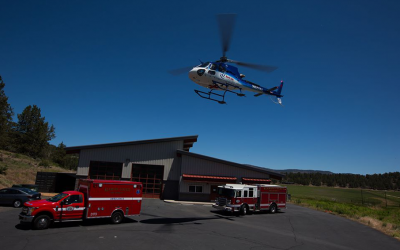 AirLink lands at Klamath County Fire District Station #5  July 1, 2020 Source: KOBI5.com A little-used fire station in Klamath Falls is now serving as an emergency dispatch airport, thanks to a partnership between AirLink Critical Care Transport, and Klamath County...
Metro Aviation is constantly growing our capabilities and expanding our reach. Metro holds more than 30 Supplemental type Certificates (STC) and completes about 35 aircraft each year for U.S. customers anf global clients.